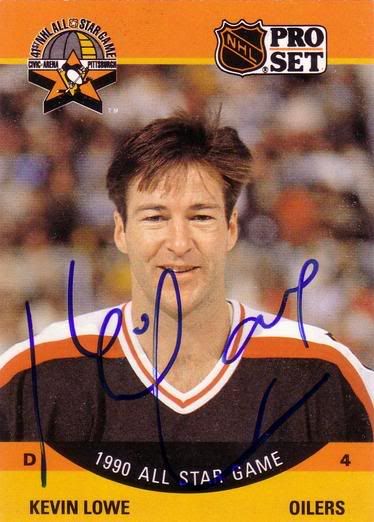 ... I'd be all like, "I'm dizzy. Why won't the world stop whirling past my eyes like some carousel of broken dreams? and why won't anyone help me?" And then I'd pat Kevin Pendergast on the back one more time and tell him to go out and decide which late-round-projected Finnish centre we should be wasting our first pick on. Sorry if I've been hammering the "Oilers draft terribly" point home a little too often lately, but seriously. Fuck.

Anyhow, yeah, I have to agree with Collin's comment to the previous post; that list is pretty fucking slim on players worth the kind of money they'll be looking for. But then again, the Oilers are a weak, desperate team, so it'll be interesting to see who they go for.

If you'll indulge me in some harmless speculation, if I was shopping for the Oilers, right off the bat I'd get the notion of picking up a first-line centre out of my head. We can't afford one, folks, pure and simple. Jason Allison? Ha. Doug Weight (if he gets bought out, which at $8 million in St. Louis seems entirely possible)? Super-ha. Hell, even dark horses like Cory Stillman (who by no means is guaranteed to repeat his 2003 numbers) and the likes of Joe Nieuwendyk are out of our league here. No, chances are we'll be looking for bodies in the $3 to $4 million range, and we still need a centre in a big way--as such, I'd be leaning towards either the chronically undervalued Greg Johnson or the extremely consistent but Marchant-esque Andrei Nikolishin for a second-line centre position, both of whom could probably be had for $3-3.5 million apiece. Hate to say it, but teams like us have to develop number-one centres, not buy them, and guys of these calibre at least strengthen the core long enough for a team to try and do so.

If there's money left over for a second forward, well shit, let's face it: we need a scoring winger, badly. And no, I don't care about how responsible their defensive play is, or whether or not they can grind it out on the boards--I want pucks in nets on a consistent basis. But, once again, who can we actually afford? While I'd love to watch Zigmund Palffy or Martin Straka bemusedly looking over his shoulder and wondering why the fuck his line can't keep up and laughing audibly at Shawn Horcoff's setup attempts, realism dictates we'll never see a player of that calibre in a home-team jersey this far north. If this was bizarro world and I didn't feel like a totally pathetic hopeful just uttering it, I think the Oilers should at least make a run for Martin St. Louis, the most skilled player on the list who would most easily fit into the team system, but yeah. Personally, I think the Oilers should seriously consider offering Valeri Bure a one-year contract just to see what happens. He has a strong skill-set (but not so strong that he'd cost more than $4 million in a new league) and I think people have forgotten what a consistent scorer the guy actually is.

Other than Bure, though, everyone else is woefully out of our league. Although, I could totally see Lowe giving Amonte a second lease on life. Would it work? Probably not. But that's what we do--right, Pat Falloon, Jiri Dopita, Adam Oates and company? Damn straight.

Finally, a defenceman. Since it's universally agreed upon that trading away Janne Niinimaa was one of the dumbest things the Oilers have done in the past few seasons, a responsible, puck-moving d-man who can quarterback a powerplay and put the puck on net from the blue line is sorely needed on the Oilers roster. Unfortunately, every other time in the NHL is usually looking for a guy with this package as well, and, again, our coffers won't allow a spending spree in this field either. Worst yet, though, the list of available players sucks. Brian Leetch? Chris Chelios? Scott Stevens? Don Sweeney? These guys are done (and considering the guy barely managed to keep his brain descrambled long enough to play 38 games in the last season, it's amazing that Stevens is even considered available at all). It's all about slim pickins here, but if I was looking for another $3-4 million, short-contract guy, I'd be trying really hard for Brian Rafalski or Teppo Numminen. Chances are they'll get better deals from other teams, though, so realistically I could see us going for a 30-pointer like Alexander Khavanov.

All this said, I predict that, instead, Lowe is simply going to blow $5 million realizing his "dream" of having Eric Lindros in an Oilers jersey, and then be forced to scramble for a skilled but lazy forward like Jan Hlavac or Andrew Brunette. Then he'll forget what he was doing and not bother looking for a defenceman or a goaltender. (Not that I think the Oilers need a goalie that badly, honestly; and who would we want/be able to afford on the list anyhow? Sorry Collin, but Snow is terrible.)

THOUGHTS??